*nynyi lagak spt usop cter hantu kak limah..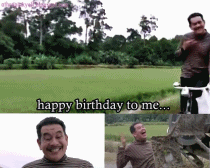 menynyi dengan gumbiranya untuk diri sendiri.
but thanks to my housemate aten
yang nyanyikn birthday song even
its juz short, simple but nice
asalkan aku bahgie dan aku hepy..
Now, I am 20 years old already.
papai belasan, welcom puluhan :)))
THANKS for all the wishes from
So, by now im not a girl anymore
Berharap dgn ber+ nyer umur ku ini
aku semakin bijak dan matang dalam kehidupan
bertindak dengan kewarasan akal
dapat hadapi semua dugaan dengan tabah.
not willing of HADIAH or KEK
or what
juz only hope people praying for
itu sudah ckup untuk diriku.